Elliptical Machines vs. Indoor Cycling Bikes
Posted by STEPHANIE PATERSON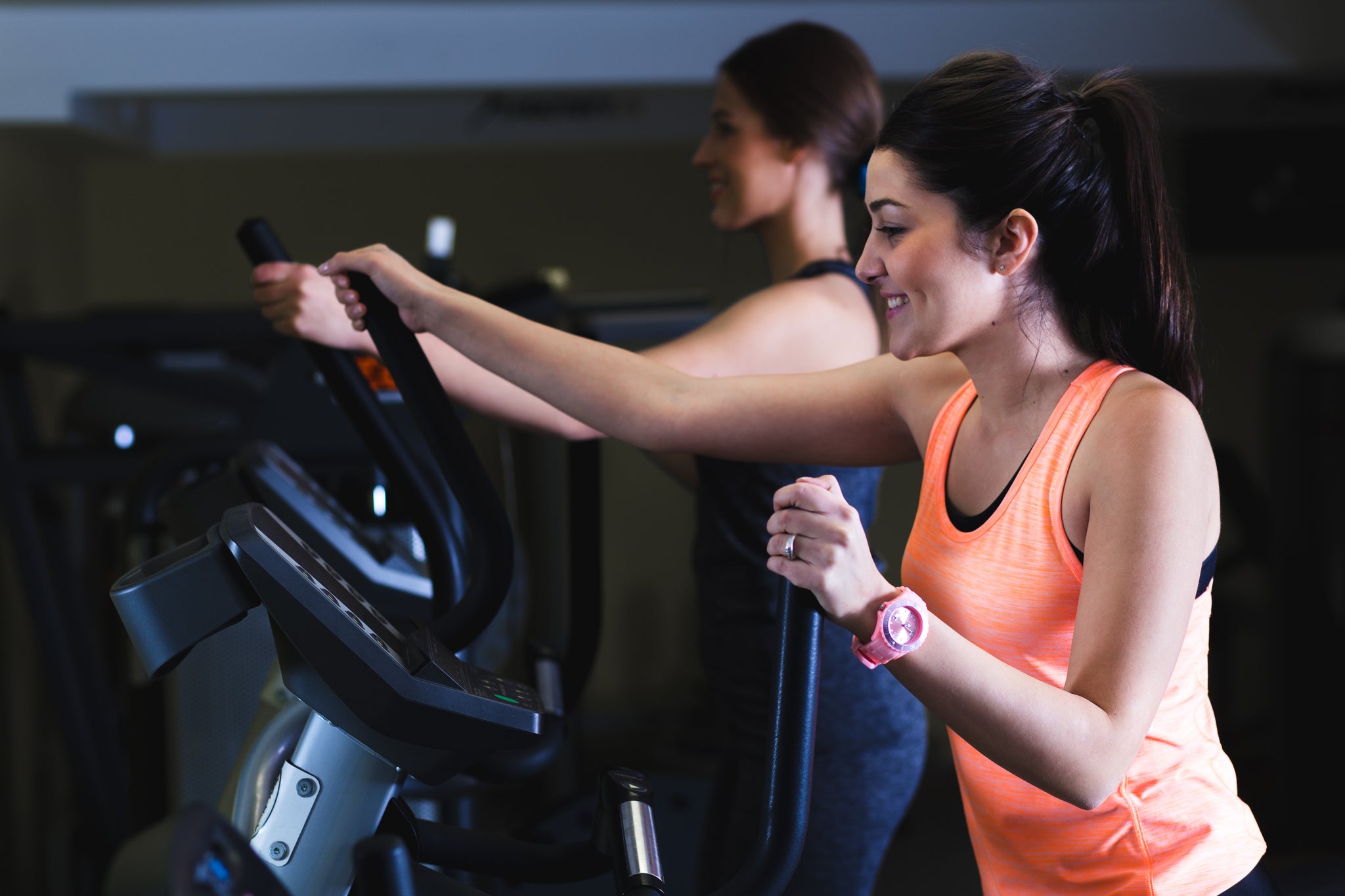 Which Machine Wins the Cardio Exercise Stamp of Approval? 
"Lazy Exercise" is the best kind of exercise.
This isn't driving across town for spin class. 
This is walking out to the garage, putting on your favorite album, and burning a few calories before going into the office.
This is a midnight session after an aggravating day at work, or a weekend session after a too-indulgent brunch with friends.
Nothing makes your house a home quite your own personal home gym. Often in the garage or a spare bedroom and often one of the only places the kids will actually leave you alone. This is a space where you can burn some serious calories - provided you've got the right equipment.
But when it comes to cardio, the crowd seems divided...
Do you go for elliptical machine benefits like "total body" engagement and immersion, or do you go with indoor cycling exercise benefits like practical training and comfortable calorie burn? What elliptical machine is good for daily exercise? Can an elliptical machine help you lose weight?
Let's look at a few of the most common questions when it comes to these two popular platforms and try to decide which one belongs in your home gym. We'll start with the benefits first:
Indoor Cycling Bike Benefits: This platform is great for "anytime" training. Whether you're watching a movie or catching up on a favorite book, you can easily train on an indoor cycle and get an outstanding, accelerated calorie burn. Additionally, this type of equipment provides practical training for long bike rides.
Elliptical Machine Benefits: Constant. Rapid. Engagement. Or for lack of a better term - fun, that's what elliptical machines are good for. Especially when you have the feedback of a smart device. They're a great cardiovascular trainer that keeps you on your feet and burns calories fast. Using an elliptical machine to lose weight can be engaging and entertaining. Additionally, they are effective space-savers in a home gym.
Can an elliptical machine
help you lose weight?
Due to the high level of cardiovascular stimulation provided by an elliptical machine, users will rapidly burn calories with minimal risk of overexertion (when following an established exercise regiment). That means in roughly half the time it takes you to 'walk off' the calories    from a big meal, you can burn them off on an elliptical while simultaneously toning muscle which in turn increases your  base metabolic rate.
So the answer is yes.
With regular use, an elliptical machine will most definitely help you lose weight. The real question is how to best use it to achieve your weight loss goals.
For that, regular, frequent use if the key. Half-hour sessions as often as is convenient, pushing your body to the edge of comfort. Each of these sessions can burn a substantial amount of calories, meaning that if your diet remains consistent then you'll start to notice a difference in no time at all.
Are elliptical machine calorie counters accurate?
Yes and no.
Basically, any intense cardiovascular exercise is going to leave you with an elevated heart rate that rapidly burns calories for hours to come. This is the difference between "active calories" (burned during exercise) and total calories burned, due to the effect of exercise.
Smart devices don't always display calorie burn data the same way, but they do provide a rough guideline to inform your daily exercise output. While an onboard elliptical machine device will provide a rough picture of calories burned, it's best to average your burn across multiple smart devices if possible.
Can an elliptical machine tone your stomach?
Yes and no.
The key to toning your stomach is regular abdominal exercise. Regular core workouts are necessary to define the muscles commonly referred to as a "six-pack." But as the saying goes, "no one can see a six-pack hiding behind a keg." Thus, regular cardiovascular exercise is necessary to maintain desired levels of calorie burn and body composition.
So, while elliptical exercise won't directly result in a six-pack, it will help you show it off more easily.
What are the differences between an elliptical machine and an indoor upright stationary cycling bike?
With an elliptical machine, your body engages with four points of motion and contact at the hands and feet. In terms of an indoor upright stationary cycling bike, your feet will be doing all the work. That means the bike provides greater overall stability, while the elliptical provides an improved degree of engagement.
In terms of the "cons", an elliptical machine doesn't exactly train your body for any specific activity (except maybe cross country skiing). Basically, while you're burning calories, you're not training for everyday activates. When it comes to the bike "cons", many people get uncomfortable when sitting still for a full hour-long workout session. This can be easily remedied by getting a bike with the right seat and wearing the proper attire while cycling.
For those concerned with mobility, cycling is an exercise that requires slightly less mobility when compared to an elliptical. However, both machines will work to enhance the user's overall mobility throughout the course of an exercise routine.
What is important to consider before buying an elliptical machine or an indoor cycling bike?
When it comes to weight loss and cardiovascular fitness, the answer comes down to personal preference.
Some people prefer to sit and read the news on their tablet while peddling, while others like the immersive "full-body" engagement of an elliptical machine. Both are outstanding in terms of overall calorie burning potential, and are bound to deliver the kind of results you're looking for. It's just a matter of which form of exercise you'll enjoy the most.
Once you've decided on your preference, you'll want to consider a few things. What are your fitness goals and how often do you plan to use the machine? Those are generally a good guide to how much you want to spend on a new piece of exercise equipment. Considering the average gym membership can cost over $500 per year, it's okay to splurge a little when it comes to getting a quality fitness machine in your home.
What's the best elliptical machine for home use?
Elliptical machines can greatly vary in price, and it can be hard for new users to tell whether there's any value to those more expensive models beyond the brand name they sport.
Fortunately, as with many other technologies, prices are coming down, while value options are only getting better. So whether you're just getting started, are building a home gym, or you're just looking to add a little something extra to your daily routine, we recommend getting started with the best-value you can find.
Some of the best budget choices out there feature advanced space-saving designs, fitness trackers, an 11" foot stride, and a 21" arm extension. These types of elliptical machines are a great starting point for daily use.
Where is the best place to buy an elliptical machineor an indoor cycling bike?
It's easy to become overwhelmed with choices when shopping for the right fitness equipment. Don't try to save a buck by buying secondhand exercise equipment as it can potentially be faulty and you could get seriously injured. Also, pay attention to reviews for both the product and seller and be mindful of the terms of your purchase as well as the warranty.
When all is said and done the main goal is that you're happy with your purchase.