Complete Bounce House Buying and Review Guide
Posted by DYLAN MILLER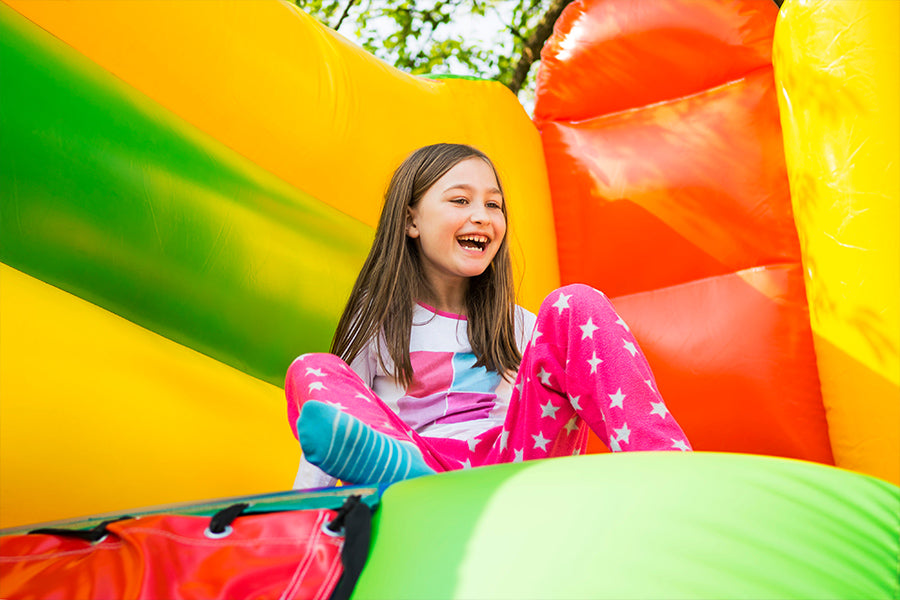 Complete Bounce House Buying and Review Guide
Bounce houses have become all the rage at children's parties and events, and it's not hard to see why: kids love them for the entertainment they provide. Standard bouncers are lots of fun for the kids to bounce around in for hours, but some of the more elaborate bounce houses include features like obstacle courses, slides, and basketball hoops. All that activity keeps the kids busy for hours and tires them out - which is great news for parents!
But with all of these options, how do you know which bounce house to choose? Should you rely solely on bounce house reviews? Do you rent every time you need a bouncer, or do you buy a bounce house so you always have it? Will buying save you any money over renting in the long run? What's most economical? How do you separate the quality from the poorly-made - especially when you can't see the bouncer in person? We'll help you answer all of these questions and more!
Common Names for Bounce Houses
Bounce houses go by several different names, all of which generally mean the same thing. Keep an eye out for the following terms: bounce house, bouncer, moonwalk, moon bounce, spacewalk, bouncy castle, bounce around, jumper, jump house, inflatable, inflatable bouncer, inflatable jumper, and inflatable moonwalk.
Bouncy castle typically refers to a bounce house in the shape of a castle. Inflatable slides and inflatable water slides typically don't include a jump area for safety reasons. You might also find that commercial bounce houses are simply referred to as commercial inflatables and residential bounce houses are called home inflatables.
Commercial vs. Residential: What's the Difference?
If you're buying a bounce house for your home, you might be wondering if a commercial inflatable is a better investment. After all, you could rent it out on the weekends when you aren't using it and make some extra money. The bounce house could pay for itself! But what is the difference between residential and commercial bouncers? Could you just rent out a residential bouncer..?
The short answer is no. Never rent out a bounce house that was designed for home use! While residential bounce houses are built out of high-quality materials, they can't hold as much weight as a commercial inflatable, and that means they are more easily overloaded. Not to mention that renting out a residential bouncer will always void your warranty, and it might violate local safety regulations. To be safe, you should only rent out high-quality commercial bounce houses. Commercial bouncers are typically larger, and are designed to handle more frequent use.
Commercial bounce houses must comply with strict regulations in order to be insured for business use. This typically means they must meet ASTM manufacturing guidelines (such as ASTM F2374, "Standard Practice for Design, Manufacture, Operation and Maintenance of Inflatable Amusement Devices"), as well as meeting general safety regulations, including CPSIA. This means that these bounce houses have been tested and meet certain quality guidelines based on national standards. However, it's important to be aware of any additional local regulations; certain states and even particular counties require additional certification in order for you to rent out your bouncer. If you are a business owner, you'll want to ensure the bouncer you are purchasing complies with your local laws and codes.
Interested in a more detailed review of the differences between commercial inflatables and residential bounce houses? Check out our article, "The Difference Between Commercial And Residential Bouncers"!
[September 2014 Update] As of 2014, the ASTM has released an additional Safety Standard for home inflatables called F2729 Standard Consumer Safety Specification for Constant Air Inflatable Play Devices for Home Use. These voluntary standards include additional testing for home-use inflatables.
Rent vs. Buy: How Do You Decide?
So now that you're familiar with the differences between commercial and residential inflatables, you're probably wondering whether it's a better idea to buy or rent your bouncer. On the one hand, you can get more use out of a bouncer if you've purchased it, which would allow you to save money. But how much will you really use it? What will happen when the kids outgrow it?
If you know for sure that you're only going to use a bounce house once, than it makes more sense to rent. (Yes, a bounce house manufacturing company is telling you it makes more sense to rent in this case. Honesty is always the best policy!) If you think you'll only use the bounce house for special events, though, you'll probably want to think again. Bouncers are a great way to keep the kids entertained on weekends, and an even better way to tire them out. What's more, they're great for having other parents and their children over for play dates; and it definitely beats sitting the kids down in front of the TV.
If you're worried about the kids outgrowing the bouncer in a few years, there are a few options:
You can buy a larger bouncer now that the kids will have room to grow into; some home bounce houses can hold up to 750-pounds. This gives you more time for the children to grow into it.
You could invest in a small commercial bouncer. While these bounce houses are typically more expensive, they're built to hold up through the years and stand up to frequent inflations. With this, you even have the option of starting a small business to rent out your bounce house and letting it pay for itself.
"But what about these great rental specials?!" The reality is that most rental specials still aren't cheap by any means. They're also temporary - meaning the next time you want to rent, it's probably going to cost you even more. So unless you are certain this is a one-time thing, you might want to consider buying your bouncer instead.
Here's an example:
A rental company offers a rate of $100 for a basic bounce house for one day. You find a similar (albeit slightly smaller) bounce house for sale at $500. It would take you five uses to get your money's worth. If that rental company offered a promotion of $85 for the bounce house (which is lower than any rate we've ever seen), it would take six uses before you got your money's worth and seven to save money—assuming you got the special rate every time you rented. Two birthday parties and a few play dates later, the moonwalk has paid for itself.
So put some thought into the decision and bust out the calculator, especially if price is holding you back. It helps to realize that a bounce house is not just something for the special events; it's also a great way to turn an afternoon into its own special event and make memories with your little ones. Added bonus? When those birthday parties, picnics and play dates come up, all of your entertainment will be taken care of and ready to go!
Picking A Quality Bounce House
You should be able to see a brand's quality right on the bounce house's specifications. If a manufacturer is not forthcoming with information regarding lead law compliance, specific materials used, or other information, it's a good idea to look elsewhere. When you manufacture quality bounce houses, there's nothing to hide! There should be zero ambiguity when describing their products; if a manufacturer doesn't list the materials, full size or warranty, stay away from that seller! Don't buy unless you know exactly what you're getting, how long it's covered under warranty, and what's included.
Trust your instincts: If you're searching for a bounce house company and one of them is giving you a shady vibe, look elsewhere. You'll also want to check their bounce house reviews to get a better idea of what to expect from a particular model of bounce house; there's nowhere better to find an opinion than from people that have already bought and used the same inflatable. If there aren't any reviews for a particular model, check and see if there are reviews for similar bouncers that are available. Most brands have similar quality and ease-of-use across all of their similar-style inflatables.
Choosing Your Bounce House
Armed with information about commercial and residential bounce houses and prepared to pick a quality bounce house manufacturer, you're ready to start shopping for your own bounce house. There are still three things you'll want to consider:
Bounce House Size
When it comes to picking your own bouncer, the first thing you'll want to consider is the size you need. Bounce houses have very specific capacity and weight requirements, so you'll want to know how many kids you're planning on. You don't need to call up all of their parents and ask their weight, but you'll want to make a good guesstimate before moving on.
Once you know what your weight requirements will be, you'll want to figure out how much room you have available to you for a bounce house. You'll need space surrounding the bouncer (at the minimum, 5 feet in every direction) to avoid collision accidents, so you'll want to measure your space accurately. Once you've figure out what space and weight you need, you're ready to move on choosing a bounce house.
Bouncer Theme
If you have particularly young children, you'll want to pick a neutral-themed bouncer that they can grow with and you can re-purpose as often as possible. For example, a colorful castle bounce house can be used for every kid in the family and can be decorated for just about every occasion. A giant slide or obstacle course can be re-used over and over again without eliciting groans for being "something just for little kids."
For example, if you want to have a Spiderman theme at your child's next birthday party, you'll probably want a Spiderman bouncer to go with it. But your bouncer doesn't need to match to plates and napkins to be perfect - kids want to be Spiderman, not jump inside of him! With the money you save from owning your own bouncer, you could buy some face paint or mini masks and let the little ones be Spiderman (or Spiderwoman!) without getting stuck with a theme your children will outgrow.
Special Features
Finally, you'll want to consider what special features a bouncer offers. For example, superhero-loving children will probably enjoy an obstacle course-style bounce house with tunnels and climbing walls where they can imagine chasing the bad guys. Younger children might be happier with a large bounce area, while older children like the excitement of a full-size slide. A bounce house with a basketball hoop can provide entertainment for kids of all ages long after they are done "just bouncing," and keep them entertained for hours.
You'll want to make sure the features you pick are appropriate for the group you are expecting. If you're planning on adults being in the mix (or older teens) you'll want to look into commercial inflatables, which have features like giant inflatable slide races. These are a hit with kids over the age of 7, but generally aren't as good for children 6 and under who might be intimidated by their height. An inflatable water slide is always a hit, but it misses out on some of the jumping features.
Once you've decided which features are most important to you, you're finally ready to pick the perfect bounce house! You'll get years of joy and hundreds of memories from your new bounce house and you'll have the security of knowing you made the best choice for you.